GRAPHENE CEMENT IS STRONGER AND SAFER
Graphene is a revolutionary technology that has the potential to expand markets and possibly displace current methods of production. Because of its remarkable qualities, graphene has the potential to have a substantial impact on a wide range of goods, procedures, and businesses.  The real promise of graphene can only be realized when it is employed to both modify existing materials and enhance them.
The number of areas that graphene research influences is significant, including transportation, medical, electronics, energy, defense, and desalination. 
Graphene also has the potential to revolutionize the construction industry. Scientists and engineers are seeing huge results when mixing graphene with concrete, one of the more essential building blocks of the modern world.
Mixing Graphene With Concrete
Some people believe that graphene, a layer of carbon that is just a single atom thick, is the technology of the future. It's that atom structure that makes graphene so special, allowing it to have a tensile strength more than 100 times stronger than steel.
Early graphene experiments suggested that when you mix it with concrete, the graphene could boost concrete's strength by up to 40%. As a result of the inclusion of graphene, follow-up investigations have shown that concrete's compressive strength has increased by 146%, its flexural strength has increased by 79.5%, and its water permeability has decreased by approximately 400%.
Simply put, concrete mixed with graphene can withstand more weight, can bend more without breaking, and is more waterproof.
A ground-breaking solution for the concrete industry has been created by the UK-based nanotechnology business Concrene Limited. They use a patent-pending protected graphene mixture to increase the strength of concrete and lessen its carbon footprint.
We Are Your Solutions Provider
What Advantages Does Graphene Concrete Have Over Traditional Concrete?
Graphene concrete utilizes all of the intrinsic material qualities of graphene, which is its key benefit over conventional concrete.
Other benefits of graphene concrete are the ability to increase the water resistance of maritime concrete structures, increase the fire resistance of facade panels, lighten concrete infrastructure products by decreasing the need for steel reinforcement, and more.
Graphene Concrete Is Good For The Environment
As the effects of global warming continue to intensify, many are looking for ways to reduce the carbon footprint of cement-based products. With 8% of the world's CO2 emissions coming from the cement sector, it is one of the top global generators of greenhouse gases. However, population expansion and rapid urbanization across the globe continue to fuel the growth of concrete products.
Concrete additives containing graphene can improve product longevity, increase strength, and decrease the clinker factor in cement.
Stronger, more resilient concrete structures are made possible by graphene concrete, mortar, and cement additives, allowing for unique and possibly greener building and infrastructure project design methods. The technique could make a new generation of concrete designs possible by producing stronger, less porous concrete structures.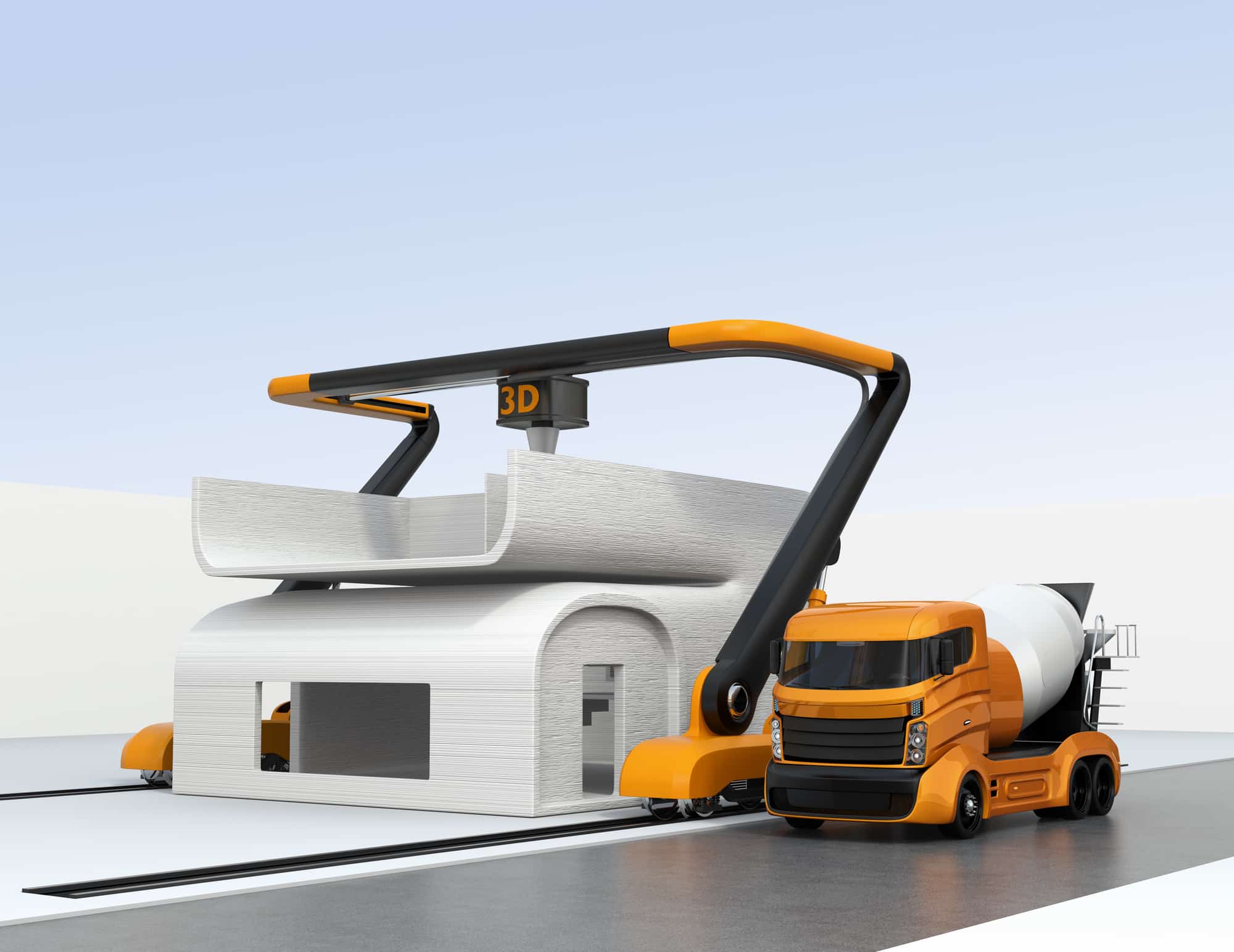 Using Graphene to Strengthen 3D Printed Concrete
3D printing is another major advancement. However, standard concrete reinforcement methods like rebar and wire mesh cannot be employed, limiting the size and scope of using concrete with 3D printers. 
By adding graphene to the concrete, enough strength is added so that the concrete can then safely be used for various 3D printing projects. 
3D printed concrete promises to enable a revolution in secure, dependable, and cost-effective housing thanks to the additional advantages brought about by adding graphene to the mix. 3D printed concrete allows buildings to be constructed more quickly while requiring less labor and waste. As a result, it creates opportunities to bring concrete construction's stability to areas where the cost of doing so prevents residents from affording higher-quality housing.
The use of graphene reinforced 3D printing also significantly lessens the environmental effects of construction projects utilizing concrete in addition to the advantages gained in terms of increased strength and durability. The carbon footprint of a project is significantly reduced by 3D printing concrete since it eliminates the need for some heavy materials and enables concrete to be manufactured on-site.
Graphene Is Shaping The Future
One of the most valuable materials in the world may be graphene. The number of patents incorporating graphene has increased dramatically since it was initially discovered in 2004. This supermaterial may soon spark a technological revolution that has the potential to alter the course of human history completely.
If you're ready to learn more about graphene and how it can be used in your industry, give us a call here at Niche Tools & Abrasives. We pride ourselves on not being salesmen. 
We're problem solvers.
Let us know what issues you are facing, and we can work to get you connected with the solution.
Reach out today to setup a quick call to speak with our experts.
"*" indicates required fields